Rolling Mill improves with Harmonic Filter
Harmonic Filter for Rolling Mill | This Rolling Mill derived multitude betterments; solved waviness in sheet metal got rid of dc drive failures and achieved energy saving by installing harmonic filter. Waviness relates to widely placed variations in the surface texture a key quality parameter of the final sheet metal product. Mill operators reported reduced humming noise with the harmonic filtering, which was due to high-frequency harmonic currents. Harmonic reduction optimized rolling mill operation and facilitated the elimination of the coil defect, which used to cause waviness during the milling process more so with lower gauge copper sheets.
Harmonic Filter slashes energy cost and equipment footprint in rolling mill. It reduces harmonic that it generates at regeneration & improves Distortion PF. This Metal Factory in India manufactures coils, sheets and plates of copper and bronze for industrial application. It has 2nos Induction Furnaces that melt copper and zinc bar to produce copper and bronze slab. The slabs are then rolled in Hot Rolled Mill (HRM) to produce intermediary hot rolled copper and bronze coil. The coils are further rolled in the Cold Rolled Mill (CRM) to manufacture the final product of Copper and Bronze Coils of required thickness as per the client's specification. The factory has implemented an Energy Saving project by installing 2nos harmonic filter at the CRM dc drive during the year 2007.  
Net Energy Saving – 4-pass rolling = 8.2 %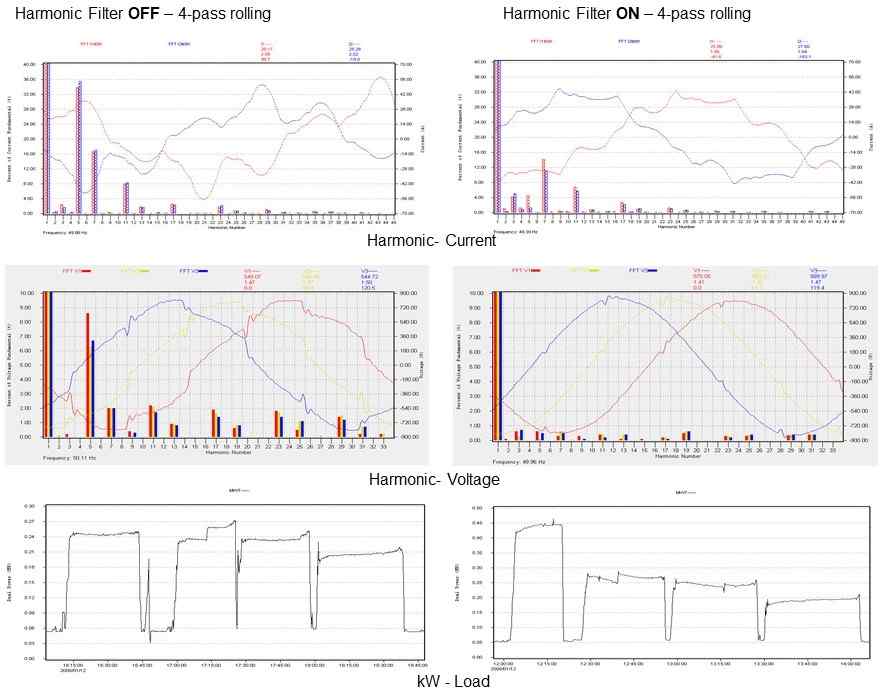 .
Harmonic Filter OFF – 1pass rolling
Coil No. P -1032 cold rolled on 13th Jan 2008 at 16.52 hrs.
Alloy 70/ 30
Initial size 0.337x 317 mm
Final size 0.253, in 1-pass rolling
Output weight 4.00 Ton (2.25% lower sized)
Pass DTR – ETR – Kg & dc Amps Mill rpm and dc Amp Total kW & Amp (HV Meter) THDv LV THDi 11kV
One 1025kg, 205A- 1423kg, 130A 204, & 2x 100A 150 and 29.6A 10.2% 40.2%
(Ave.) (Ave.)
Total kWh consumed in this single pass Operation = 83.55 kWh
Harmonic Filter ON – 1-pass rolling
Coil No. P -1028 cold rolled on 13th Jan 2008 at 16.07 hrs.
Alloy 70/ 30
Initial size 0.337x 317 mm
Final size 0.253, in 1-pass rolling
Output weight 4.09 Ton (2.25% higher sized)
Pass DTR – ETR – Kg & dc Amps Mill rpm and dc Amp Total kW & Amp (HV Meter) THDv LV THDi 11kV
One 1100kg, 215A- 1414kg, 133A 190, & 2x 120A 140 and 26.0A 1.1% 17.2%
(Ave.) (Ave.)
Total kWh consumed in this single pass Operation = 79.05 kWh
Energy Savings = (83.55 -79.05)/ 79.05 = 5.7%
Difference of Coil Size rolled = 2. 25%
Net Energy Saving -1-pass rolling = 8 %
Read More: Rolling Mill Harmonic Filter